See on Scoop.it – La brecha de la complejidad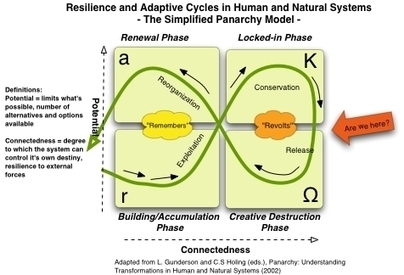 See on Scoop.it – Global Brain
" The Adaptive Cycle Diagram All complex organizations have a life cycle. They are born, they grow, they age, and they die. Often, a new version of the old system is…
enrique rubio royo's insight:
The Adaptive Cycle Diagram
All complex organizations have a life cycle. They are born, they grow, they age, and they die. Often, a new version of the old system is reborn and goes through the life cycle again.
The model that has proven most useful to me in considering how to change these complex systems is the Adaptive Cycle (pictured above; for more versions of the model see Variations on Adaptive Cycle Model), also called the Panarchy Model. The adaptive cycle, slightly modified, is a useful template for understanding how the purpose of an organization and its use of resources change throughout its life cycle.
See on spaceweaver.tumblr.com