See on Scoop.it – La brecha de la complejidad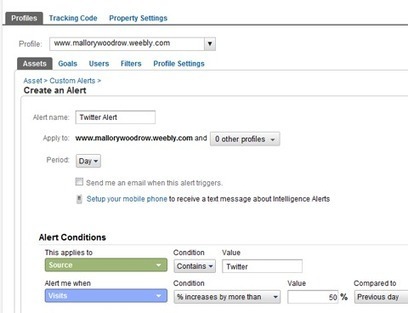 Measure social media success: Use free powerful Google products to understand the successes and failures of your social media promotion or campaign.
Here are 4 easy ways you can use free products:
#1: Track Actions Visitors Take:
Use Event Tracking to show when individuals exit your website to your social media outlets.
This information is beneficial in helping you to:
-Understand how your users are finding your social outlets.
– Recognize the way they interact with your brand online.
– Identify areas of improvement in regard to your social share plug-ins or buttons.
For complete steps on how to add the actual tracking code to your website, visit Google Support.
Once installed, you will be able to determine the number of people clicking on your social media buttons from your website during the length of your social campaign.
#2: Identify Social Actions Generating the Most Traffic:
Although you're able to see that the user came from Facebook or Twitter to your sweepstakes rules, wouldn't it be nice to be able to identify which tweet or post from your social outlets generated the most quality clicks to that page?
Google URL Builder allows you to do just that and it's a great way to see which variation of a tweet or post harnessed the most quality clicks.
#3: Find Out if Your Social Promotion Grew Legs:
Another product that can be used to tap into the power of Google to measure the success of your social media campaign is Google Alerts. Google Alerts allows you to see other places on the web that picked up your social promotion and delivers the information straight to your inbox.
Identifying key individuals or outlets serves as a great way to build relationships within the social sphere and to start to compile a list of individuals and outlets to reach out to the next time you run a social media promotion.
#4: Get Real-Time Alerts:
Google Analytics Alerts are useful while the campaign is still running, in that they can assist you to stay up to date with the success of your promotion.
Just head into Alerts and set up an alert for a significant increase in day-to-day traffic from Twitter, Facebook and Google+ and you'll get email updates when traffic starts falling from the sky.
Check out full interesting article here: http://j.mp/I1xEez
See on www.socialmediaexaminer.com